7 Reasons To Try Fasteak + Free Tomahawk Steak
Build Your Custom Box Today and Get a Free Tomahawk, Valued at $140! (No Subscription Required)
Limited time offer while supplies last.
We provide high quality steaks from $10.75/LB.
While steak cuts are normally associated with luxury and a premium price tag, with Fasteak it's not the case. Even with our smallest box, steaks are only $13.75/LB. Yep, that's up to 80% cheaper than other leading steak delivery companies*.

We only send high quality steaks, no fillers.
While other brands "cheapen" their boxes by mixing their steaks with cheaper/lower end proteins, we stay true. Our boxes only come with high-end steaks, that are hand-selected, triple-trimmed by our expert butchers, and aged for 7 - 28 days, then flash frozen so they arrive at your doorstep ready to grill at the peak of freshness, tenderness, and flavor. Just Steaks, no fillers.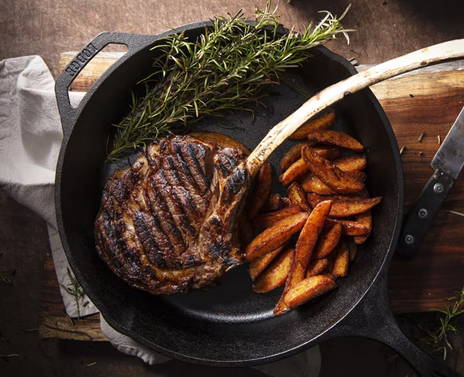 We know simplicity is key, hence we focus on helping you get delicious steaks on the table as quickly as possible. All of our steaks are indiviudally sealed and packed for easy defrosting. Once defrosted they only take 15 minutes or less to prepare, cook and serve!
We're trusted by thousands of Americans.
Sounds too good to be true? Well, not quite. Over 10,000 people have left us a positive review on our shop & delivery. You can rest assured, your first box will blow your socks off as well!
We don't force you to subscribe.
We don't think it is right for brands to force you to subscribe to their steak box before you try them out! That is why we allow you to choose the steaks you'd love to try, at an amazing price and if you love them you can come back whenever you wish and get some more.
We're giving away
a special offer for new customers.
Don't believe others? Try it yourself. For a limited time only we have a special offer for you to give us a try.

Click below to get your first box and get a Free Monster Tomahawk!
Got Questions?
We've got answers.
Why does Fasteak cost less than other steak brands?
We go directly to the beef producers allowing us to cut the middleman and offer lower prices plus we also sell in bulk which further allows us to lower our prices even more.

Is there a commitment (AKA Subscription) ?
Nope we believe is giving you freedom of choice! You can buy from us whenever you wish, no commitment.
How are the steaks packaged?
All of our steaks are Hand Cut and Aged for 7-28 days for extra flavor & tenderness. They are Individually Sealed and Packed. Then Flash-Frozen to preserve flavor, vitamins, and mineral.
How many people can I feed with 1 steak?
In average our steaks weigh 16oz, which is more than enough for 2 adults.
Do I have to pay for shipping?
While shipping helps us keep steaks at a low cost, it's absolutley free in our big and family size box. If you don't order those sizes, our total price is still much lower than other steak companies.


How are the cattle raised?
We raise our cattle on pastures by farmers who care very much about not only their cattle, but also the environment and the supply chain around the cuts they produce. It is our strong commitment to create a supply chain that is concerned with animal welfare, supporting independent farmers, and protecting the environment. Count on getting humanely raised beef delivered to your door, and change the world one box at a time.